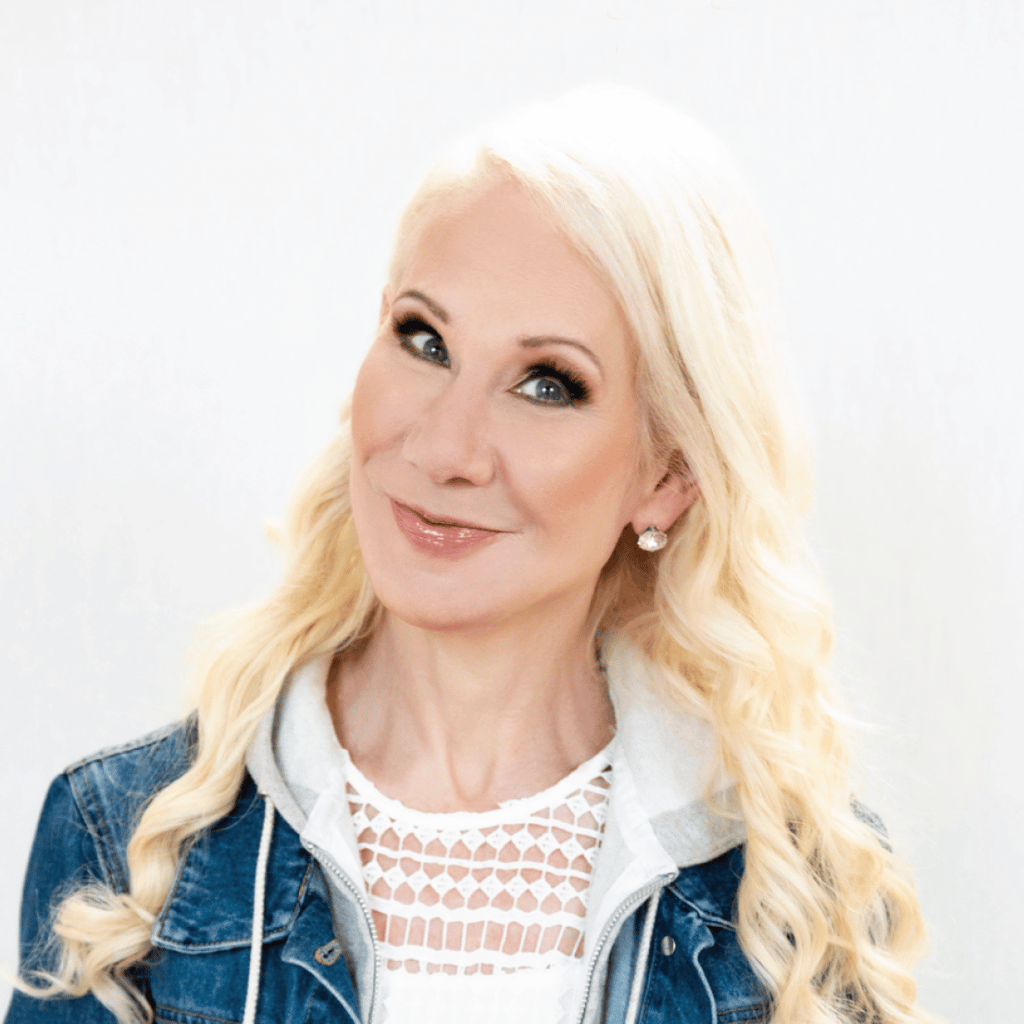 You don't have to do this alone…
Losing weight can be hard AF. There's so much noise in the online space telling you to try a specific diet, exercise a certain way, don't do this, do that, and on and on and on. It's time to cut through the bull$hit and uncomplicate weight loss TOGETHER!
Limited Time
Get exclusive access to the Society with NO enrollments fee, a BONUS Holiday survival Recipe Guide, and pay just $37 for the first month (using code earlyaccess37). It's $57 each month thereafter, cancel anytime.
Let's cut through the bull$hit and uncomplicate weight loss TOGETHER!
It's proven that when you have accountability during a weight loss journey, you are more likely to succeed. But what would happen if you combined accountability with the knowledge you need to know about losing weight in real life? What would happen if you could cut through all the bull$hit and get the facts straight from the mouth of someone who has been there and done that for the past 20 years?
Listen…I get it. Trying to lose weight can be a real b*tch if you don't understand how all of the different factors affect each other. There is so much more to weight loss than JUST calories in and calories out. While we would all love for weight loss to be that simple, the truth is it's not! And if you're here, reading this right now, then you probably already know that. It's time to end the madness already and stop trying to figure it all out alone!
So I thought to myself, "What could I do to help women lose weight once and for all, get the bangin' body they want, feel confident in their birthday suit, and uncomplicate the process at the same time?"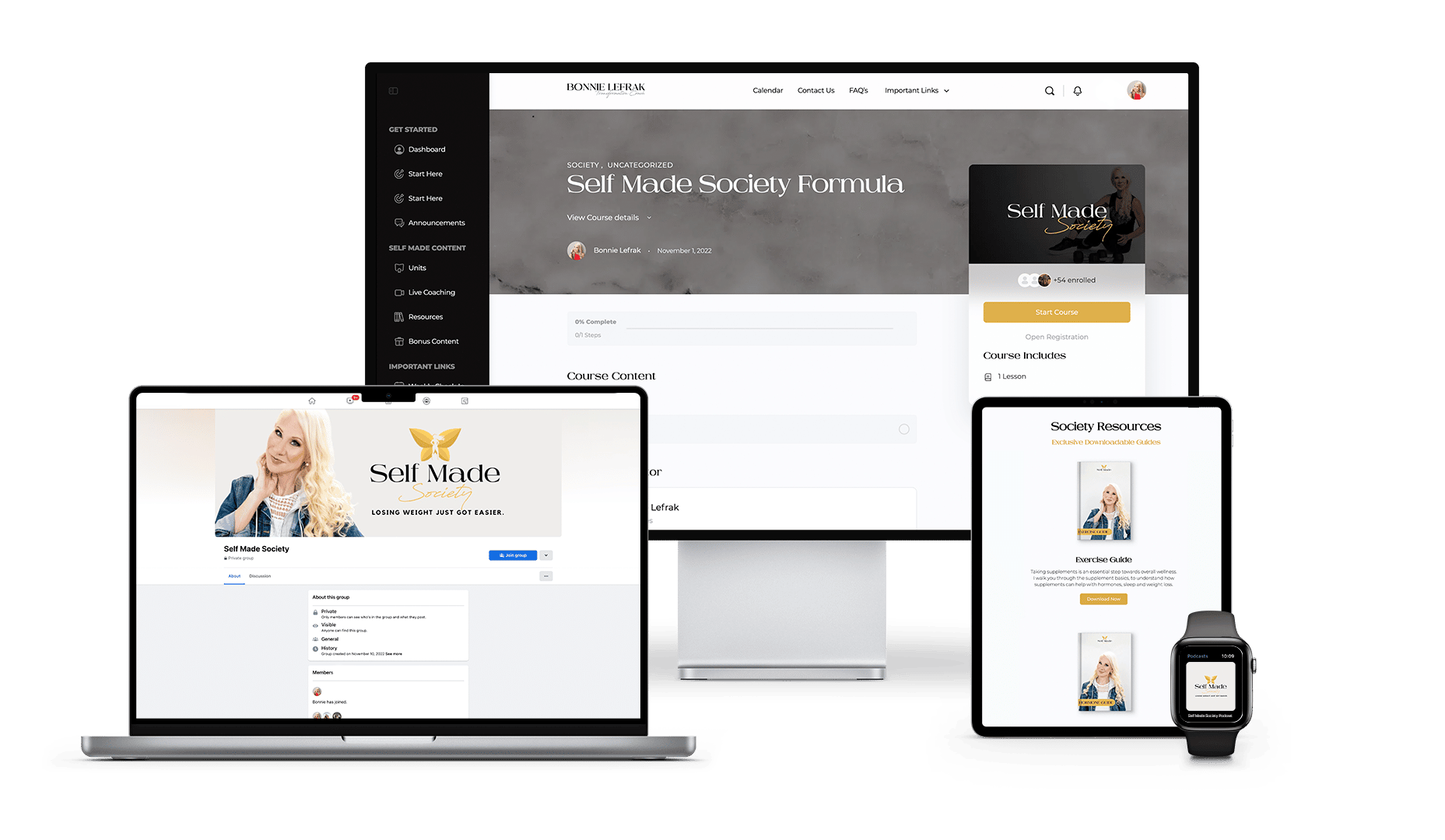 THAT'S WHEN I CREATED SELF MADE SOCIETY
Self Made Society is a membership dedicated to helping you achieve your weight loss goals by making the process as uncomplicated as possible.
And what's even better is you don't have to do it alone anymore. If you're having a $hitty day, you can reach out to this community. Need someone to virtually slap that cookie out of your hand? You can reach out to this community. Need to understand why you keep getting in your own way? You can reach out to this community.
This is THE PLACE you can come to with all your weight loss and mindset questions and problems where there will be no judgment…ONLY SUPPORT!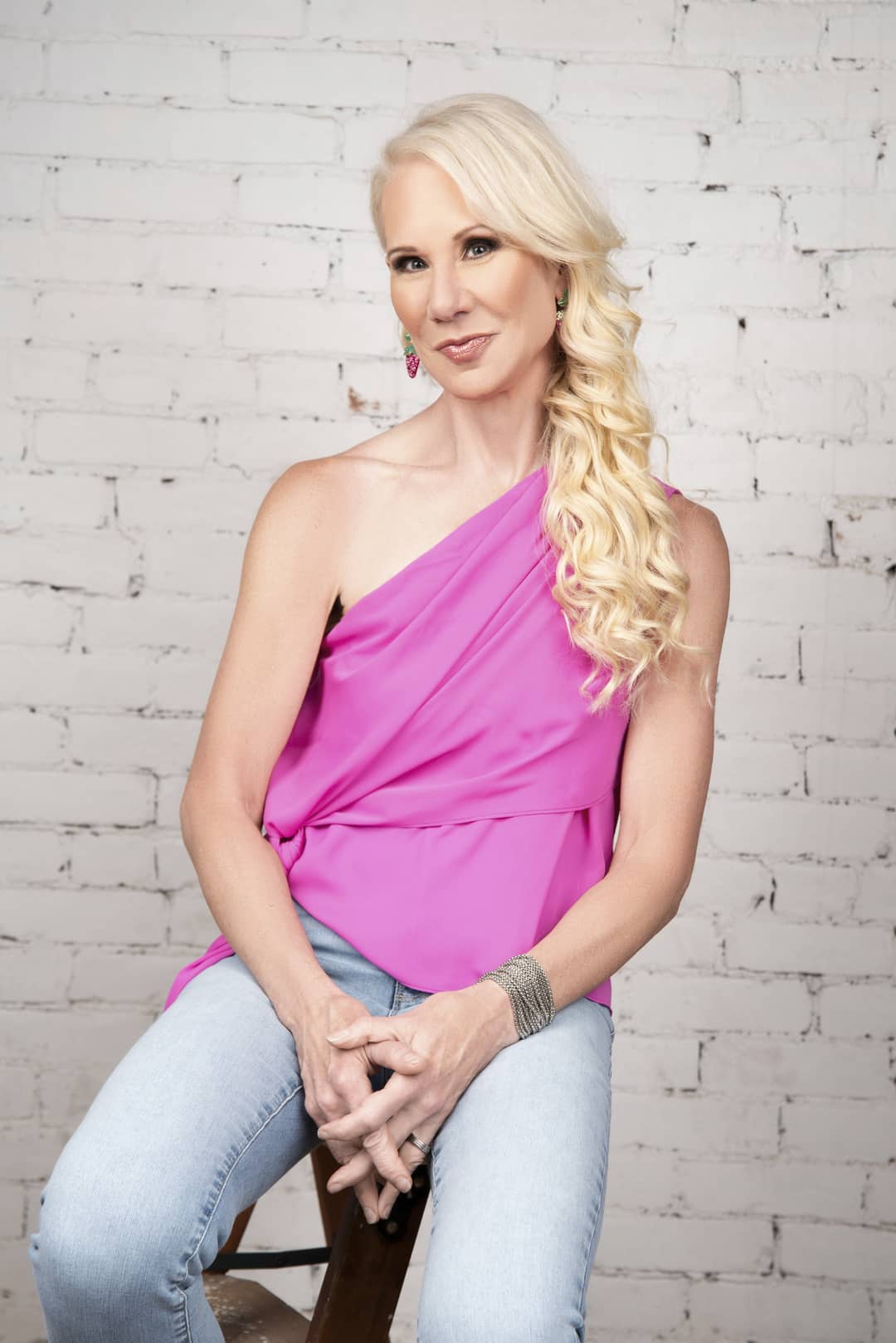 In case we haven't already met…HI! I'm Bonnie!
I'm a Life & Body Transformation Expert and Founder of Self Made, a program designed to help you tackle the physical aspects of health and weight loss as well as the beliefs and thoughts that drive our habits and behaviors.
It is my goal to help women create certainty in their own lives, their own results, and their own abilities.
Weight loss is not about the one "right" diet
it is about MUCH more than that.
Weight loss is not about the one "right" workout. Weight loss is not about being positive and putting a big smile on.
Weight loss is about FEELINGS. All of them. Not trying to bury them or hide from them, but knowing and allowing the full human experience. Weight loss is not about grinding, hustling, and will-powering your way to some end line. Transformation (when done well) is done from the inside out.
By addressing both the physical and mental aspects of dieting and weight loss, I have coached thousands of women ages 30-55+ from all over and helped them ditch the mindsets that are holding them back, achieve permanent weight loss, and get the bangin' body of their dreams.
I am an expert at Demystifying weight loss. I help you u****k your diet brain. I am on a mission to help women love themselves, to find PEACE in the process of losing weight, taking care of themselves, and leveraging the power they do have to become who and want they want right now.
WHAT'S INCLUDED IN SELF MADE SOCIETY?
In Depth Trainings on Exercise, Weight Loss, & Building your Food Matrix
Self-Guided Resources on Supplements, Hormone Advocacy, and more!
Exclusive Self Made Society Members Only Podcast
Bonus Material that is updated each month and available ONLY to Self Made Society Members
LIVE Topic trainings and group Q&A coaching calls every month
Self Made Society Private Facebook Accountability Group
BEST OF ALL… Self Made Society can be applied to your life no matter what diet or way of eating you choose.
See what Everyone Is Saying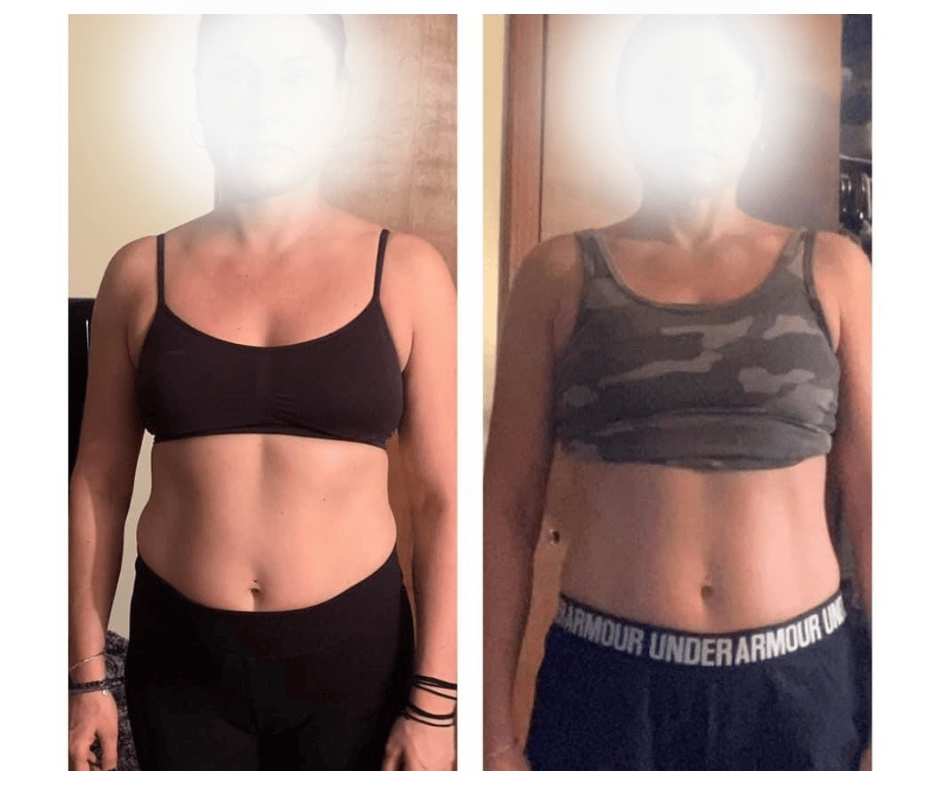 She just finished up 12 weeks in private coaching group.
And needless to say she's pretty happy.
Not only did she lose over a pound every week she did it without starving, or trying to be perfect.
In fact – she had… and took tons of flexibility because..
She learned how to.
Also this woman works 2 jobs – and is busy as one could be with 1 day "off" a week.
Congratulations Nicole – keep rocking it!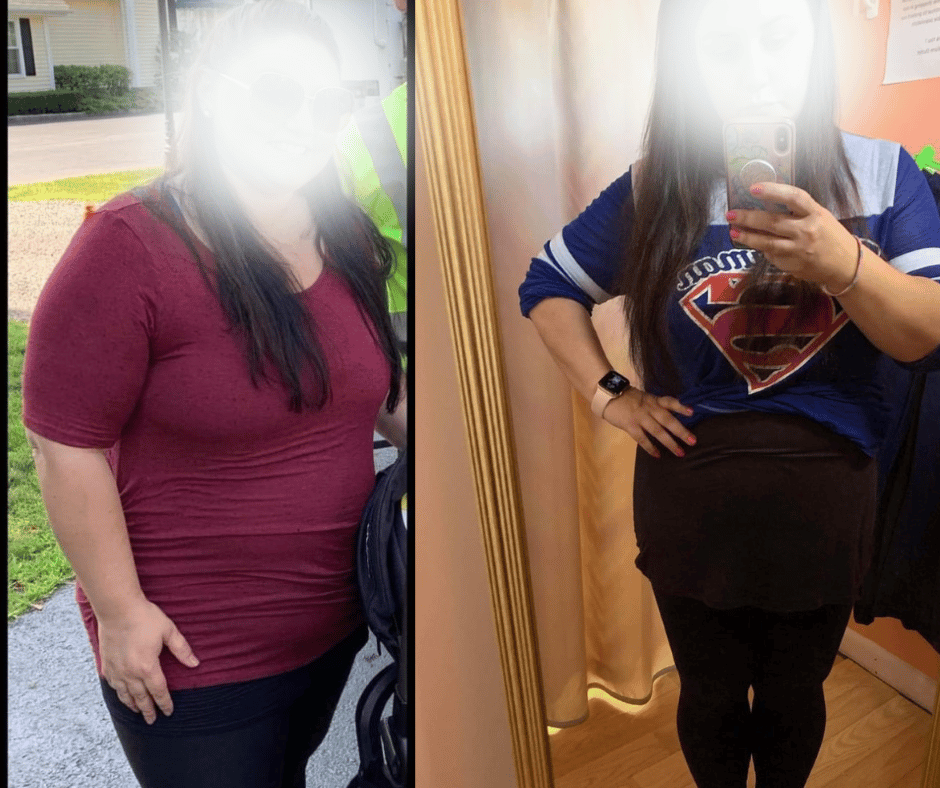 I wanted to share some wins with you.
This program has been helping me alot just reading your encouragement and listening to the zoom calls when I can.
I'm an all or nothing individual so I have struggled a long time with food.
Emotional eating and putting everyone else first like a lot of woman/moms do.
I'm now starting to realize my own health and wellness is very important for my family to function as well.
Hope you are doing the same! <3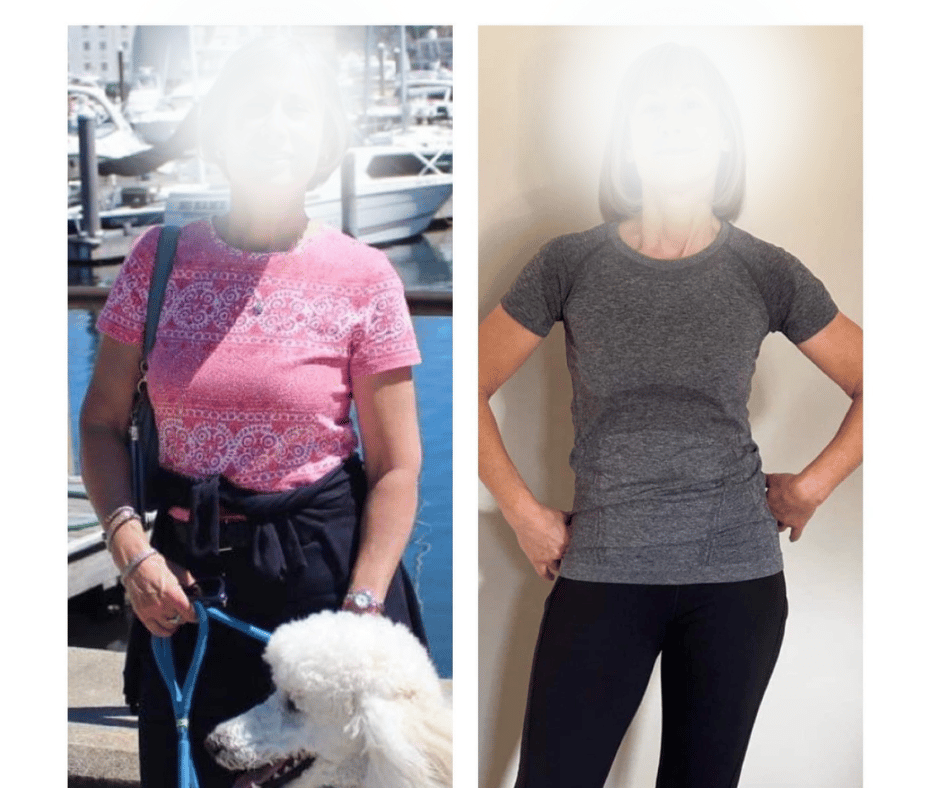 I've maintained my weight loss for 6 months.
I've done 72 bootcamps since July and look like a badass, and today I did not buy the higher calorie muffin at Roche Bros that was going to replace the one I wanted from Dunkin that they were sold out of.
Instead I went home and ate a late but on plan lunch!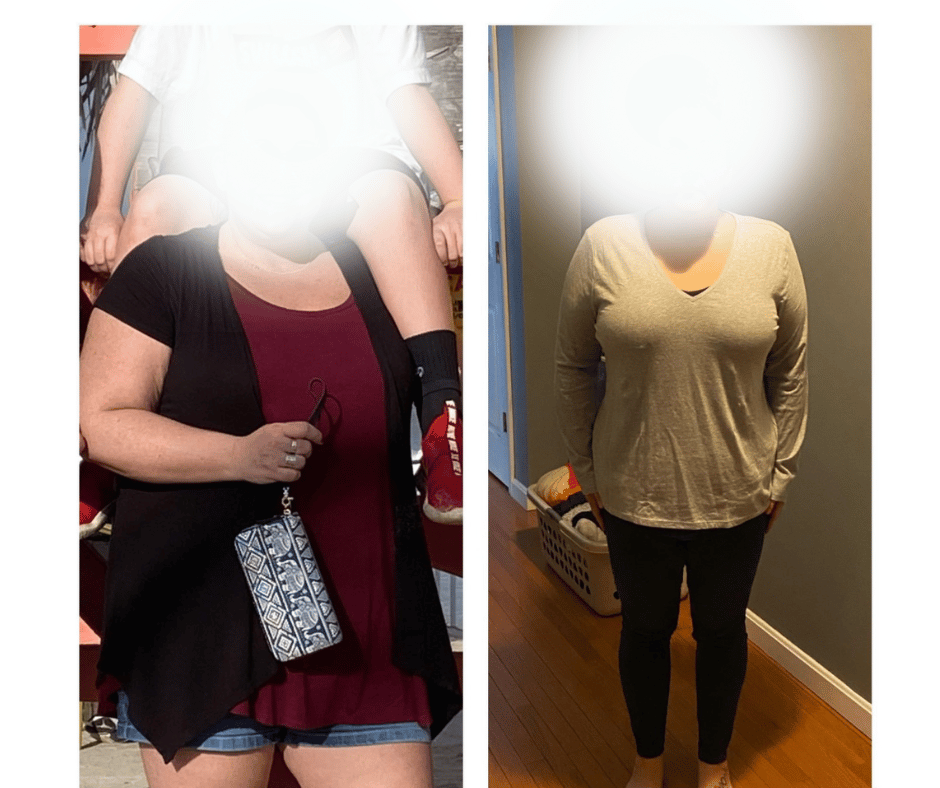 Congratulations to Kendra! This woman has lost 50lbs in 20 weeks. And that's something to celebrate.
PS. She's a busy woman with kids, family and all the life issues that happen.. And she did it anyway.
Over the summer no less.
N

You are DONE struggling

N

You are DONE trying to figure $hit out and failing

N

You are DONE hating what and who you see in the mirror and photos

N

You are READY and WILLING to let go all the old diet BS

N

You are READY and WILLING to show up for yourself

N

You are READY and WILLING to be uncomfortable because life ain't all sunshine and ponies

N

You are READY and WILLING to take responsibility for your actions and future

N

You are READY and WILLING to prioritize yourself

N

You want to feel challenged, supported, and accountable

N

You are ready to invest the time and energy into yourself

N

You want to develop a healthy relationship with food, the scale, exercise and yourself

N

You have already tried all the things

N

You want to lose 5-100+ lbs

N

You want the tools and community that could improve every aspect of your life

N

You are ready to do epic $hit with a group of badass women
M

You want to continue playing the victim

M

You're satisfied with being uncomfortable in your own skin.

M

You'd rather keep trying to achieve your goals alone and keep failing.

M

You're not ready to take personal responsibility for your own actions.

M

You're not willing to support other women on their weight loss journey.

M

You just don't actually want to lose weight permanently.
Limited Time
Get exclusive access to the Society with NO enrollments fee, a BONUS Holiday survival Recipe Guide, and pay just $37 for the first month (using code earlyaccess37). It's $57 each month thereafter, cancel anytime.
Your one-stop shop to cut through all the bull$hit and noise the diet industry has created while creating a supportive environment that will help you stay true to and achieve your goals.
For only $57 a month ($197 to enroll), you can have access to a wide variety of resources, trainings, and community that will help you finally lose weight and feel good in your own skin.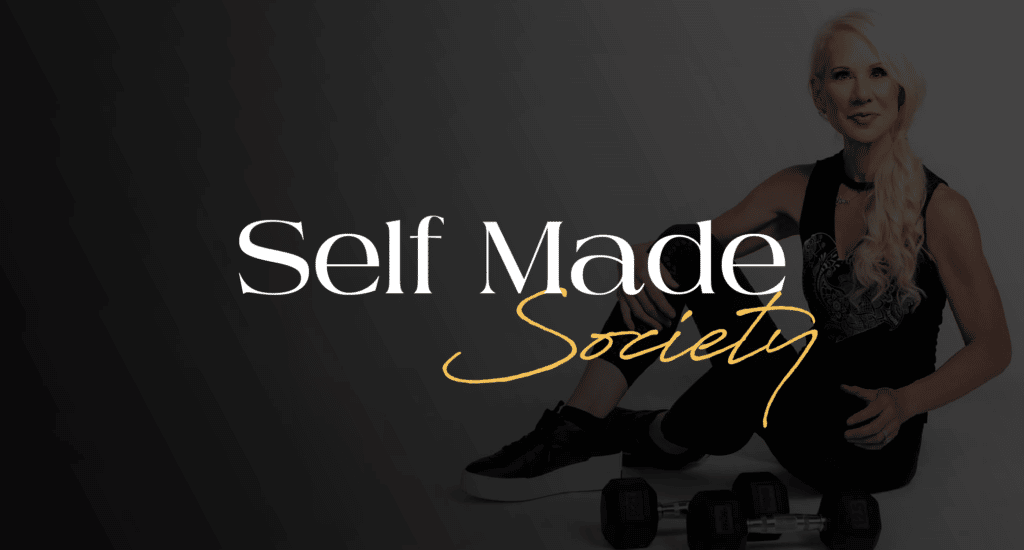 N

Exclusive Self Made Society Course with In-Depth Video Modules

N

Exclusive Self Made Society Self-Guided Resources

N

Access to Self Made Society Member Only Podcast

N

Live Topic Training Calls

N

Live Coaching Q&A Calls

N

Private Self Made Society Facebook Accountability Group

N

Opportunity to Get Coached 1-On-1

N

AND Self Made Society Bonus Materials!
If you're ready to ditch the diet industry that just has you jumping from one diet to the next and create true transformation from the inside out while receiving the support you need…it's time to join Self Made Society.
See what Everyone Is Saying
-Rachelle W.
If you have been stuck on the hamster wheel of weight loss and are feeling so lost and without direction this is an amazing program to turn to. It gets you thinking and feeling and puts you on a path that seems doable. I cannot recommend this program or Bonnie and her knowledge more. I feel more tapped in to myself and who I want to be than I have ever been before. I finally feel like weight loss is something I can do. I finally feel like the thoughts in my head are normal. I am telling you if you are thinking it Bonnie will make sure you know that you are not alone. I am so excited to continue on this path and meeting my future self. This program is eye opening. – I hope there are some lines you can use. I am excited for the big news coming and excited to continue working with you. THANK YOU for opening my eyes to what is in front of me and reminding me I know what to do.
-Deborah F.
"After at least several years of following Bonnie online and participating in two programs I can honestly say she's excellent at what she does. Having a M.A. in Psychology myself and having had worked in the field, I can say that Bonnie's approach is very effective. Bonnie is passionate as well as clearly knowledgeable about women's difficulties in losing weight. She is extremely well rounded and has a holistic approach. I often blurt out to my husband "Bonnie is amazing." She truly is, you can only grow from working with her."
-Ebbi
Tried to listen on the recommendation of a friend but the sound quality is terrible. Microphone fading in and out, squawking sounds, overall painful listen. I'm sure the content is good, but I couldn't get through.
-TraceySSS
Bonnie is a master at helping women lose weight for good. So glad she's sharing her wisdom with the world via this podcast!!
-A Professional Dieter
Bonnie is so knowledgeable and just makes weight loss easy and fun! Not to mention she lights a fire under your butt! I can't wait to hear more!
-Pwestie
I am back to this same spot again but now I am REALLY listening to what I need to do and understand my brain and body.
- Maintaining the win
Bonnie knows and shares all the things about nutrition, exercise, macros, but the differentiating factor is her ability to help us figure out what is driving our behaviors that affect weight and overall health. 
-Chunk&Noodle
I'll be honest, I'm a chronic quitter. Doesn't matter what it is; I will always find a reason not to do it. This podcast is tough love I need and I wish this existed 5 years ago.
-TSM_Kieran09
Podcast does a great job discussing how we put barriers in the way of our journey to become our best self. It will make you think, in a good way, about how to get out of your own way, and be successful at your health goals.
-Jolene
Bonnie and her team have all the tools you need to become the healthy person you want to be. I realized that having a coach like Bonnie will really help you thrive and become accountable to yourself. I know the reasons why I have quit my past healthy journey, such as being a perfectionist and not having the realization that weight loss and muscle gain can be slow for me; and that's ok. Now I know to have grace and celebrate small wins along the way: energy, less migraines, appreciating strength and not worrying about what the scale dictates. I listen to her Podcasts for helpful reminders, and it also keeps me accountable to myself. You have to understand your "why" and what has prevented you from your goals in the past. You must dig deep into your thoughts and behavior patterns and then the process becomes easier! I fully trust Bonnie and her team to support my healthy journey and become the woman I want to be. If you're having trouble finding a starting point, join Bonnie's free Facebook group and listen to her Podcasts- take notes! Thank you Bonnie!